LEAD STORY: Tear Down THIS Statue!

Huge insult to the U.S. Bill of Rights.
Sits right in front of the U.N.
CONTENTS BELOW


The NEW 2017 Travelers Guide
All 50 states gun laws -- In Stock!

Click http://www.gunlaws.com/travel.htm

PAGE NINE No. 170 "The Uninvited Ombudsman Report"
om•buds•man, n.
public advocate with a significant degree of independence, representing the interests of the public,
addressing maladministration or a violation of rights; discontinued by news media by the turn of the 21st century. And it shows.

Sep. 27, 2017



UPCOMING EVENTS -- MEET ME AT:


The Gun Rights Policy Conference

Sep. 29 - Oct. 1, 2017

Westin-Dallas-Ft. Worth Airport Hotel, Texas
Sponsored by the Second Amendment Foundation saf.org
--

S.A.F.E. Conference, New York

Oct. 1, 2017
Raddison Hotel, Hauppauge, NY, 1 - 4 p.m.
Sportsmen's Association for Firearms Education

Special video appearance
--

National Republican Assembly Convention

Oct. 6, 2017
Sheraton Mesa Hotel, 860 N. Riverview, Mesa, Arizona
Dick Morris, Corey Lewandowski, Schweikert, Gosar, Biggs, DeWit, King
480-221-9633 • gopgal14@gmail.com
--

Bill of Rights Day

Dec. 15, 2017
Coordinated by the 10th Amendment Foundation
Phoenix, Arizona and nationwide * Save the Date
Check out prior Bill of Rights Day events

--

Western Conservative Conference

March 23-24, 2018
The Big One, Phoenix Convention Center, Arizona
2nd Amendment Luncheon sponsored by the NRA

Save the Date. Lori Klein Corbin 602-315-1737

The 2017
guide for armed travel is now out --
We have it
in stock for immediate shipment
!
The Traveler's Guide to the Firearm Laws of the 50 States2017 Edition
by J. Scott Kappas
http://www.gunlaws.com/travel.htm
Available now.
Only $14.95 -- New for 2017!
for more info click the image
||||||||||||||||||||||||
"Can't recommend it highly enough"
"Loved it."
"Couldn't put it down."
"This book scared me."
After You Shoot: Your gun's hot. The perp's not. Now what?
http://www.gunlaws.com/AYS.htm
Don't end up in more trouble than the crook.
Get both books and save -- on the
Traveler's page
.
CLICK THE IMAGE, READ ALL ABOUT IT
Only $14.95 each!
Get it on Kindle, only $9.99
http://www.amazon.com/dp/B009L5F76C/ref=rdr_kindle_ext_tmb
Order two and get free shipping! Save $5!


One for you, one for a friend or a gift!
The guide for your state's gun laws here:
http://www.gunlaws.com/books2.htm
50-state Self Defense laws here
(scroll down there to see both):
http://www.gunlaws.com/SelfDefenseLawsOfAll50States.htm
Stay safe.
Thank you for your support.
Click for eBooks!

http://www.gunlaws.com/books22-ebooks.htm

CONTENTS
1- DESTROY THIS STATUE
An insult to the Bill of Rights
We can deal with other offensive statues later, maybe


2- IS ANTI-SEMITISM INCREASING
"Why" isn't the question
What are YOU going to do about it?


3- THE VIRGIN ISLANDS GUN BAN
Forget the rumors, here's what really happened.
The big Q: What would YOU do?



4- DEMOCRATS ARRESTED FOR CAUSE
DACA is not about the people, it's about the usurpation
If the president is out of control, and Congress doesn't act, you get a crisis



5- CLIMATE CHANGE NOISE IS MISSING
We're used to the noise, odd when it's not there.



6- VIOLENCE!!!
But there is no violence.
Award-winning front-page propaganda leads phony campaign
7- Texas Gun-Law Update for 2017
Ugh! Ran out of time.
Completely done, included with all books, will be posted online soon.
Thank you for your patience.


----::::----
Author Alan Korwin
on Yanert Glacier in Alaska, examining a mineral specimen
lifted out of the glacier, a goal since childhood. It looks colder than it was.
Click image for more pics and videos
-- Tell your friends -- Permission to circulate granted -- and encouraged.
Page Nine on Facebook: https://www.facebook.com/pageninewatchblogGun Laws dot com on Facebook:https://www.facebook.com/gunlawsdotcomTrainMeAZ on Facebook:https://www.facebook.com/TrainMeAZ
Alan on YouTube (COOL!) --
https://www.youtube.com/results?search_query=alan+korwin+gunlaws.com
:::-—-:::

STARTERS$1.5 Trillion add'l debt is "a very good place"?
Republicans on the Senate budget panel have reached a tentative agreement on a tax plan that would add about $1.5 trillion in debt over the next 10 years, to the $20 trillion America already owes. Sen. Bob Corker, Tenn., called this "potentially a very good place..." Is he crazy? The debt must shrink. This unfathomably large sum is insane. Who are these people? Who gets all this money we don't have? None of the reports say. This is called "news."
|||||||||||||||||||||||||||

Counterintuitive Man Says:

His image is still on their currency.
And on their walls. Despotic, tyrannical, mass-murdering dictator.

Not China.
Communist China.
Our sworn enemy.

Don't forget it, no matter how often the media calls it China.
And remember -- they're the power behind nuclear North Korea.

|||||||||||||||||||||||||||
Changing the law by Drivers Manual
Arizona fought hard to make sure people don't have to tell every police officer they meet if they're armed. It serves no purpose, violates your privacy, and can lead to nervous, dangerous, even lethal confrontations. So many folks in Arizona are armed, and with Constitutional Carry, no permit is needed, so things operate on human decency, discretion, smiles, and criminals do what they do regardless. Peaceful possession of your property is of no concern under any normal circumstances. Even during official cop stops, you only need to reveal in Arizona if directly asked, it's an offense if you lie. Typically you're never asked. Police
must
be prepared for someone, sometime, to pull a gun, anywhere. What does asking have to do with it?
That's why people were outraged when one out-of-line legislator, working behind the scenes and without authority, got the official website DMV drivers manual changed to say you must reveal the presence
and
location of your guns when you're stopped. This democrat, Rep. Reginald Bolding, LD-27,
https://www.facebook.com/boldingforarizona/
rbolding@azleg.gov
, decided he didn't like the law and would force new rules, working with... community organizations, without an act of the legislature. We're working on it. DMV is very slow to act. We're persistent.
Innocent people killed by police when
they "announced" they have firearms:

Philando Castille (http://tinyurl.com/yb63fdtz)
Dillon Taylor (http://tinyurl.com/yb46cyzb)
John Crawford (http://tinyurl.com/y7wfmb7y)


||||



Request for help - ARM THE ARMY

In 2015, under Hussein-Obama, it became apparent that our military bases
and recruitment offices were unarmed or subarmed.

Americans were promised this would change, and defenseless soldiers would be provided with arms and ammunition.

Does anyone know if this was done?
Congress introduced five, count 'em, five, Arm The Army bills.
If you or someone you know is in the military and can personally check the entry points, or recruitment offices near you, please let me know, first hand, the state of affairs. Are our officers and staff armed yet?
||||RACISM
There isn't much that's more racist than rap music and the people who make it. The people who groove on the lyric are right up there with the people who write it. I won't reprint that trash. Racist, sexist beyond locker-room imagination, o-phobic everything. Google "50 top rap lyrics" if you doubt it, and prepare for an assault on your senses. Imagine my surprise: "50 worst rap lyrics" is about the same.
||||



SAME GREAT STUFF, JUST LESS MONEY

||||


The Armed and Smart Set
Fully illustrated high-class commercial production guides for arming yourself
The most consumer-friendly starter guide to the popular trend of carrying firearms in daily life. If you've decided to live the armed lifestyle and discreetly bear arms as you go about your affairs, this full-color glossy production will bring you up to speed in a modern way you'd expect from a national retailer. Professionally modeled, drawn and photographed images illustrate all aspects of the gear, operations, body positions and motions, indoor and outdoor scenarios related to firearms ownership and use. Terse and crisp text, in blocks next to the images keep this upbeat and attention grabbing, applying the knowledge you need right where you need it. Introductions to the main topics give you more in-depth juice. Get the advanced guide too for more shooting techniques, improved accuracy, holster and carry options, ammo types, firearm sights and practice skills and more to improve your results as a gun owner.
:::-—-:::
1- DESTROY THIS STATUE!
A statue that really needs removal.

UNITED NATIONS PLAZA, NEW YORK CITY. Don't worry, it's small.

An insult, not just offensive, to the Bill of Rights!
It has no place on American soil.
"Denial of rights guaranteed to the people by the U.S. Constitution."
Argue about other statues later - this one affects every American...
"Tear down that coil!"

"It is not art, it's a finger in freedom's eye."
The U.N.'s website describes it as "a giant Colt Python .357 Magnum revolver."
Every image I could find online shows it "as big as a house" (my wife's estimate, based on looking).
Couldn't even find a measurement online. This is how anti-rights efforts work.
I was there. It's revolver size. Yup, revolver sized. I was stunned. I expected to be dwarfed by it.
Just another lefty lie. I still don't have an image that shows perspective, searched too long, gave up.
"On the 2011 anniversary of the death of John Lennon,
fellow former Beatle Ringo Starr urged musicians to join
The Non-Violence Project..." (the statute was created related to this).
INVITATION
"I'm inviting Ringo, whose work I grew up with and adore, to a discussion of non-violence, and especially the non-aggression principle, so we can arrive at an intelligent common understanding of the difference between a knotted gun, a real gun, the tyrants behind the walls of the U.N., the possibility of peace on Earth, and real symbols of peace, like smiles, flowers and sunshine. C'mon Ringo, take me up on it, musician to musician." --Alan Korwin

AND IN THIS NEWS:
JPFO, BELLEVUE, WA -- In the midst of the national frenzy for
removing offensive symbols
, many with controversial but historical significance, a Jewish civil-rights group is calling for destruction of the United Nations anti Second-Amendment-rights statue set in the heart of New York City. President Trump just visited the U.N. to emphasize the importance of sovereignty—our national rights.
A Bill of Rights and civil rights affront:
In its official statement, Jews for the Preservation of Firearms Ownership,
http://www.jpfo.org
said:
"This statue is a grotesque assault on the most fundamental tenet of the U.S. Bill of Rights,
plus the basic civil and human right of Americans and all people to protect themselves
from harm—and the kind of evil lurking in U.N. headquarters itself.
The statute must be seen for what it is, and expunged.
It is not art, it's a finger in freedom's eye."
"JPFO supports non-violence but that's not what this is. The pretzel gun denigrates every legitimate role firearms play in preserving peace, freedom, prosperity, deterring enemies, stopping crime and the jihad, providing food even at subsistence levels for the poor. In short, it is a statist abomination," according to Alan Korwin, an author and consultant to JPFO.
"It conveys little notion or implication of disarming the horrific denizens of the U.N. and tyrants who rule much of Earth's population," he says. "Such a misguided affront to our heritage, history and constitutional guarantees springs from ignorance. It has no place on our soil." JPFO suggests moving it to a Human Rights Council nation like Iraq, Myanmar or Saudi Arabia, or perhaps communist China or Africa is appropriate, anywhere but the land of the free and the home of the brave, where real guns keep the violent at bay.

Rather than moving the six-inch bronze, typically imaged to look huge, melt it down for ammunition, as penance for the long-standing humiliating constitutional insult. Peace symbols are like flowers, feathers, doves, sunshine, hearts and water, not guns, JPFO says.
Peace symbols are like
flowers, feathers, doves,
sunshine, hearts and water,
not guns, JPFO says.
AND IN RELATED NEWS
The lamestream media told you:
The lamestream media told you:

Fascist demonstrators, some calling themselves antifascists, clashed in Charlottsville over the removal of GENUINE historical monuments, leading to violent clashes. In one incident, a car plowed into a crowd and a woman was killed.

The fascists supporting preserving the GENUINE historical monuments included Ku Klux Klansmen, Nazis, White Supremacists, and others. Among the fascists advocating removal of the GENUINE historical monuments were Antifa, Black Lives Matter, the Occupy movement, and others. Both sides were armed with at least crude impact weapons and wore threatening clothing.

The lamestream failed to mention or played down the fact that these were GENUINE historical monuments, both sides were fascistic (they only called the White side fascists), and surprisingly, no moderates were willing to come out argue that, "tearing down long-standing monuments in a political wind is unAmerican and emblematic of how ISIS muslim terrorists operate." Regrettably, White fascists stood alone on this point, although probably for different reasons.
Subsequent left-wing demands for tearing down monuments includes, among too many to name, removing Thomas Jefferson's statue from the University of Virginia, which he founded. Jefferson wrote The Declaration of Independence.


The Uninvited Ombudsman notes however that:
The Uninvited Ombudsman notes however that:

Far left-wing organizations and politicians are calling for gun bans, using the car death of one woman in a vehicular homicide at a political rally as an excuse.

Leading the move is the radical ACLU, which has announced it will not defend any demonstrators who bear arms, regardless of their message. City councils and others are seeking to ban people in public from bearing arms, during demonstrations and at other times. Legal grounds for such actions do not exist, and fall under the constitutional prohibition of infringement. Denial of civil rights under color of law is a federal felony, though it is largely unenforced:
18 USC § 242. Deprivation of rights under color of law.
The Gist: Anyone who, under color of any law, statute, ordinance, custom or regulation, willfully deprives any person of any rights, privileges, or immunities secured or protected by the Constitution or laws of the United States, shall be fined, or imprisoned for up to one year, or both.

||||


ALONGSIDE NIGHT


It's summertime -- time to kick back and absorb some freedom perspective.

Widely considered one of the finest libertarian novels ever written. The U.S. Government is broke and unraveling, America's enemies are gloating, money is worthless, markets collapse, businesses fail, a massive shift in economics is reshaping the nation. Black marketeers use computer encryption to operate bold enterprises that even totalitarian controls can't stop. A private mercenary army headed by a former Green Beret battles an FBI run by a ruthless dictator who's blackmailing the president and running secret prisons.
Caught in the middle is the brilliant teenage son of a Nobel-prize winning economist and the mysterious girl (who carries a pistol with a silencer!) he meets in a secret underground city. A Prometheus winner Hall-Of-Fame novel with high adventure, narrow escapes, thrilling rescues, and a model for throwing off the chains of oppression and restoring freedom. Reignites a sense of true liberty that has been dulled by the incremental infringements we endure daily. Uplifting.


:::-—-:::

2- Is Anti-Semitism Increasing?
It Doesn't Matter, It Exists, Wha Choo Gonna Do?

The lamestream media told you:
The lamestream media told you:
"If Trump's not a white supremacist, he does a good impression."
-Washington Post
https://www.washingtonpost.com/opinions/if-trumps-not-a-white-supremacist-he-does-a-good-impression/2017/09/25/f070e250-a22b-11e7-b14f-f41773cd5a14_story.html?utm_term=.2c032ffcaa39
"Donald Trump is a white supremacist who has largely surrounded himself w/ other white supremacists."

...and Trump is "the most ignorant, offensive president of my lifetime," that he hired and courted white supremacists, that "His rise is a direct result of white supremacy," that "if he were not white, he never would have been elected." ... and the Republican Party "has done nothing but endorse/promote white supremacy."
The New York Times, conveniently attributed to a string a tweets by ESPN host Jemele Hill, so they can't be blamed for saying it themselves.

https://www.nytimes.com/2017/09/18/opinion/trump-white-supremacist.html?mcubz=1




The Uninvited Ombudsman notes however that:
The Uninvited Ombudsman notes however that:



This group keeps hitting the nail on the head --

"You don't have to be Jewish to fight by our side."
While the "news" media, the pundits, the pros and antis, reps and dems,
TV and radio guys argue whether Trump is bringing out the crazies or
they're bringing out each other, what matters is what to do about them.
They're armed, dangerous, dedicated to trouble, bedlam, chaos and death.
If we weren't so mired in marxist/socialist propaganda this would be obvious --


"If anything should motivate you to learn about your precious American right to keep and bear arms and to use your freedom to arm yourself, the current dramatic rise in anti-Semitism is it. If you don't understand that, shame on you, and you deserve what you get. History is repeating itself. Wake up children. Get armed, get trained, don't become a victim. Yes, our position is more people properly armed. What is the anti-Semite's position?"


This highly principled position deserves your support.
Jews for the Preservation of Firearms Ownership,
http://www.jpfo.org
They have a lot of mottos. They fight with the moral imperative of survivors.


Visit JPFO on Facebook:

https://www.facebook.com/jewsforthepreservationoffirearmsownership/
||||


EMERGENCY
A liberal's view of surviving almost anything
NY Times best-selling author Neil Strauss, 418 p., $9.99



A survival guide from the left -- unlike any survival book you have seen. The author includes things you have never even considered. It turns out liberals fear a world collapse just like everyone, maybe more. Financial upheaval, interruption of food, water or power supply, superbugs, muslims, nukes, martial law, it's a long list -- and here is a very fresh perspective -- how to survive and thrive with a left-wing slant. You're not adequately prepared if you don't look through this window into another world. Includes living tax-free, turning a credit card into a knife, death cults, asset protection, evading snipers, bikes of the apocalypse (gotta love it!), escaped-felon secrets, much more.

||||


SURVIVING A MASS KILLER RAMPAGE
By Chris Bird, 408 p. #SAMK $22.95
One of the top writers in the field today challenges you to survive, armed or not, shows you how ordinary people fought back against mass murderers and won. Police arrive too late—it's up to you—thrilling, detailed descriptions of what actually happened, guns used, shots fired, the stuff "news" reports never include Bird has found and revealed, totally exciting and illuminating, police and civilian actions and bloody results. Remember: gun-free zones aren't.
50-state Knife-Law guide!

(AT LAST! And fascinating too.)
50-state Self-Defense-Law guide!

(Two of them actually, one easy, one deep)
Stunning new analysis of HUNTING ACCIDENTS

(Two buddies noticed reports were shallow, dug deep, great insights)
New political novels
New guides for WOMEN

PLUS
Guides to YOUR State gun laws

("It doesn't make sense to own a gun and not know the rules")
How to BE MORE EFFECTIVE politically

(Stop complaining and learn how to do something)
Get Yourself a Button -- and more!
NEW FOR 2017!!

The Arizona Gun Owner's Guide http://www.gunlaws.com/agog.htm




The Texas Gun Owner's Guide http://www.gunlaws.com/tgog.htm
With complete updates!!

The Virginia Gun Owner's Guide
http://www.gunlaws.com/vgog.htm
Come back
here
when you're done reading the Page Nine news!
:::-—-:::


3- Orders Issued to Disarm... Everyone?
Hurricane Irma Gun Grab -- The Truth
Front Page "Error" and Rumor Gone Wild
USA Today doesn't even bother lying carefully any longer. Read the caption.
Go ahead. I'll wait.
They're not putting up shutters. They're boarding up the windows. Sure, it's
a small point. But it's blatant and obvious. The media no longer even cares about
accuracy, even when it's front and center. The frequent excuse is they fudge to
save space. Board up windows has fewer characters, and would be correct, too.
USA Today. Sep. 9, 2017. Page One.

The lamestream media told you:
The lamestream media told you:

Non-stop coverage of the storm -- it's coming! it's coming!, it's here!, it's going!, it's gone!, preempting every other bit of news for days -- days -- even the Russian takeover of Donald Trump's brain, and his tax returns (forgot about those, didn't you).
Only Tucker Carlson questioned the governor of the Virgin Islands about it, live on FOX News, who seemed to have ordered every gun on the islands confiscated by the National Guard. Forty Google listings deep and not one other lamestream media outlet was on the subject -- but every gun and new-media source was all over it.
Publicly posted, click for a full-size image of the gun-seizure order:

VI Mapp's Gun Grab Order
The Uninvited Ombudsman notes however that:
The Uninvited Ombudsman notes however that:


There's more to it than that
Only the new-media and gun media really carried the story, because it was so "minor." Governor Kenneth Mapp of the U.S. Virgin Islands, a U.S. territory protected by the National Guard, issued an order to confiscate the public's guns and ammo before hurricane Irma arrived in early Sep. 2017. The "officials" down there know who has what, because all guns are registered -- the holy grail of the anti-gun-rights community worldwide.
Gun folks went bonkers. The order actually said the troops could confiscate basically anything, if they needed it for their purposes. It was not a blanket order to go door-to-door to disarm the public. But it was sloppy, and could have been read that way. In statutes enacted in 1972 they pretty much gave themselves that authority, and those "laws" should have been quickly voided as unconstitutional. They weren't. That's how this sort of power is stolen, bit by bit, without notice.
I watched the governor on Tucker Carlson (FOX News) shuck and jive, defending his action, insisting they would never confiscate guns. But... but, it could be dangerous after the storm, they didn't want looting. Right. And what did he expect the public to do if looters showed up?
Dial 911 and Die
? (by Aaron Zelman and Richard Stevens)
The situation raised the most fundamental Second Amendment question of all. What would YOU do if armed troops showed up at your door and demanded your guns, because they had orders, or it was going to... rain?
U.S. National Guard troops are out of compliance with REAL law if they follow a shocking order to confiscate innocent civilians' firearms in the U.S. Virgin Islands. U.S. troops and police forces have professed loudly and publicly they would never follow such an order if it were ever given. Would they follow orders, or their oaths? That's why Oath Keepers was formed -- low confidence in how well principle would be followed.
An impending natural disaster like a hurricane, when the public will need its guns is the opposite of justification for such an unthinkable immoral confiscation act. The governor issuing the order will not be deprived of armed protection himself. This is exactly the definition of tyranny by an elected official, a new King George. Guns for me but not for thee. He considers sending the heavily armed National Guard after your guns in a time of crisis, the very time when firearms are most needed. He should
encourage
your self-sufficient armed safety, suspecting his statist capabilities are about to be reduced to rubble.
The impending collapse of government, its resources and services makes it imperative that the public be armed to secure its own safety, when self-reliance will be key to survival, as it always is in these situations.
Texas just survived cataclysmic conditions without resort to violence or monstrous government abuse. Governor Mapp is in need of reeducation.
"From my cold dead fingers," and "Bullets First!" gain urgency when government calls out its troops to disarm the general public. There is no legitimate authority to do so. There is no logical reason to do so. It demonstrates at best hoplophobic behavior in serious need of treatment, at worst plain tyrannical abuse.
Here's the worst of it. Hurricane Hugo, 1989 -- it was the National Guard and the police who were doing the looting! The
L.A. Times
was first to get that story. The looters were joined by hundreds of prisoners set free by a demolished prison. I don't understand why gun rights groups didn't call for public resistance to the order, and instead chose to file papers and issue statements.
The Founders were right. People in power don't trust the people over whom they have power. This is the ultimate reason why you should only give up your guns, bullets first. Never forget. That's why you have them. That ability, and willingness, keeps you safe and free. Because then maybe you won't have to, and government will keep its proper distance, like in search and rescue operations.
Now it turns out the National Guard never got around to confiscating anything. The storm was on them too quickly. So who cares, right? Louisiana, last time around, ahh, it could never happen outside a southern swamp, right?
The "officials" will confiscate your guns, no questions asked, next time they're asked. "News" media will support their effort, no questions asked. Just like last time.
Only one groups gave the right answer, IMHO, Jews for the Preservation of Firearms Ownership, http://www.jpfo.org:
"If U.S. National Guard troops execute this illegal order and attempt to forcibly disarm the public they should be met with armed resistance and subject to court martial... The idea that you can make people safer by making them defenseless in the face of hurricane devastation is insanity... Government agents arriving to disarm innocent people who face mayhem should face loaded guns, not compliant victims, because the agents are doing harm and threatening lives. Soldiers take oaths against this. People are justified in defending themselves—it is precisely why they are armed." Now there's a group that gets it, one worth joining. Their mottos are that they make the other groups look like moderates, and you don't have to Jewish to fight by their side.
Tactical alternate actual approach:
Appear gone/abandoned/don't answer
Diversion: We're packing, about to leave, we're good, go attend to others, do you have any supplies
These aren't the droids you're looking for
Fate: If they persist, attempt to forcibly enter, fate has chosen you.
You end up in the world court.
:::-—-:::


WHAT IS FREEDOM—IS IT FOR YOU?
By Shane F. Krauser, 208 p. #WIF $22.50
Recharge your appreciation of liberty and what makes America great. Whether you're new to the freedom struggle or in it for decades, this book brings the constitutional principles of freedom together into 25 principles, and a 360-degree view of America's system of ordered liberty and individual rights. Quotes the Constitution, then elaborates, illuminates. Krauser, a trial attorney and constitutional scholar explains how our system is set up and why. Get smarter.


||||


THE TRUTH ABOUT SELF PROTECTION
by Masaad Ayoob. 418 pgs. #TASP $19.95

This thick paperback remains among the most comprehensive guides to crime avoidance and personal security every written.

Get the facts on every aspect of personal safety, from evasive driving to planting cactus by your windows. Lifesaving techniques will help keep you, your family and your possessions safe, prepare you for defense if it becomes necessary, and guide you in buying lethal and less-than-lethal goods, from locks to firearms. This classic is finally back in print after being unavailable for more than a year!

:::-—-:::



4- Democrats Arrested, But Why?Illegal Immigration Reporting Totally Twisted
No wonder people are misled


The lamestream media told you:
The lamestream media told you:

"U.S. Rep. Raul Grijalva and two other Democratic members of Congress were arrested as they led immigration-related protests outside Trump Tower on Tuesday.

"The eight-term Arizona Democrat has been an outspoken critic of the Trump administration's crackdown on undocumented immigrants and its decision to end an executive action by former President Barack Obama that temporarily protected 'dreamers' from removal proceedings..."
http://www.azcentral.com/story/news/politics/arizona/2017/09/19/rep-raul-grijalva-arrested-while-protesting-outside-trump-tower-immigration/681895001/
The Uninvited Ombudsman notes however that:
The Uninvited Ombudsman notes however that:
Maintaining its official narrative, instead of reporting straight facts, AZCentral.com could have more accurately reported:
"U.S. Rep. Raul Grijalva and two other Democratic members of Congress were arrested blocking Manhattan traffic in an immigration-related protest outside Trump Tower on Tuesday.
"The Arizona Democrat, among the most far-left-leaning members of Congress, now in his eighth term, has been an outspoken critic of the Trump administration's effort to stop the massive illegal entry of people sneaking undetected across the nation's southern border. He objects to Trump's decision to end an unconstitutional executive action by former President Barack Obama, which created the current crisis of so-called 'dreamers.' Congress abdicated its check-and-balance duty, ignoring the illegal order when it was mandated.
"The metaphorical 'dreamers' are now at the center of deportation proceedings for their lack of legal status to be present in the country."
The Washington Post had a slightly different take, calling it: "a protest of President Trump's decision to end legal protections for hundreds of thousands of young immigrants." That would more accurately read: "...to remove hundreds of thousands of adults in the country illegally under Obama's unconstitutional action while in office." In a now common propaganda tactic, the Post calls the illegal immigrants "immigrants."
In predictable lockstep, CNN reported Grijalva's arrest as part of, "a demonstration in support of immigrants," without mentioning these are illegal immigrants. CNN omitted mention of Obama's illegal action or these people's secret entry into America past border guards. They go on to say the program, "was put in place under President Barack Obama" without mentioning anything about the lack of authority to do so, which has created this political crisis. A quick survey of other mainstream reports is unsurprisingly similar. No one breaks the mold.
If the illegal and unconstitutional nature of the former president's program, and the sneak-entry across our border was mentioned, even if not prominently, the entire sense of the public conversation would change. National media is aware of this, as you are now.
||||

BY FORCE OF PATRIOTS
By Cameron Reddy 520 pgs. #BFO $17.95
How about a nice shoot 'em up where our side wins... In a world flipped upside down by liberals and political correctness, all three branches of federal government assert unknown levels of coercive power until fed up Americans rise up to take back their country. More than a tale of oppression and rebellion, it examines how America strayed from its roots, with intriguing, colorful characters who grapple with the social, political and legal issues at the heart of America's difficulties. Raw, provocative, not for the faint of heart.
:::-—-:::

5- Climate Change Noise Missing
Public Baffled, Scientists Not So Much
The lamestream media told you:
The lamestream media told you:
Nothing.
The Uninvited Ombudsman notes however that:
The Uninvited Ombudsman notes however that:
A near total lack of reports linking climate change to Hurricane Harvey (can you remember back that far?) has no environmentalists shouting about censorship or biased reporting.
This may be due to the fact that the "green" movement has learned the public doesn't believe linking individual weather events to master environmental edicts qualifies as science, or that the case for climate change, also called global warming, climate disruption, carbon footprint and eco terrorism -- may have hockey-stick sized holes. (Recent hurricanes have had global alarmism shouting.)
A recently published report (Science News, Vol. 191, No. 9, p. 19) notes, "The world's more than 100 million lakes are often overlooked in climate simulations. That's surprising, because lakes are far easier to measure than oceans." After a landmark study was published in 2015, scientists were shocked to find, "the picture is far more complicated," than they expected. Although lakes experienced the same weather, some warmed faster, or slower, for reasons they could not explain or understand. "Such variability makes it hard to pin down what to expect in the future," according to an aquatic biologist at Washington State U.
It seems that climate changes, because that's what climate does. Human understanding of the phenomena is in its infancy, and calls for massive upheaval of humanity, to avoid massive upheaval of humanity, may be premature. Especially since some of the world's largest industrialists are excluded from current plans (communist China, India, more), and the developed world tasked with the invented burdens. Control of the purse strings and people on the receiving end of life style changes requires more care and thought that it may have received previously, according to leading experts. Changing our climate, if this is even possible, should not be handled with the alacrity we are all-of-a-sudden using to replace our monuments, according to leading experts.
||||

YOU AND THE POLICE
YOU AND THE POLICE
by Boston T. Party. $16
A very important book -- what to do if you're stopped by the police for any reason. Packed with ideas on how to handle a stop, and reviews the rights you do and do not have. What do you say and do if a cop wants to search your car? Do you have to tell if you have a gun? Must you show ID if you're not under arrest? What should you do if you are arrested? How can you talk your way out of a ticket? What are the limits on warrantless searches? You may know about guns
and self defense, but you're not ready without this information.

:::-—-:::


6- Violence! But There Is None.Even the Headline Lies


(Arizonans may have seen this item)
The lamestream media told you:
The lamestream media told you:
The gathering in Phoenix was peaceful until the end when rioting broke out and there was widespread violence. Police had to use tear gas, pepper spray, pepper balls and rubber bullets to disburse the mob.
WHAT VIOLENCE?

Winner: The End of Credibility Award.


The Uninvited Ombudsman notes however that:
The Uninvited Ombudsman notes however that:

In the most flagrant display of bizarre propaganda in recent memory, a front page mainstream newspaper proclaims violence, but shows a totally peaceful scene with one demonstrator. Because there was little else.

A line of battle ready shock troops, identities hidden, aligned in combat formation stand guard, as absolutely nothing is happening. The disjoint between headline and image must have appealed to someone up there in those isolated halls.

The Uninvited Ombudsman carefully screened footage from every major "news" outlet, and despite vigorous editing and artful presentation, the only thing remotely resembling violence was police action against the assembled public.
Kicking a single canister of riot gas back at its source is not deemed violence for the purpose of this report. That scene, repeated on screens ad nauseum, including the guy folding from a rubber-bullet shot to the groin, is not proof of violence or justification for any of the phony reports that followed.



Friends who were there reported an unruly angry, antagonistic mob of anti-Trumpers when they exited the rally. Police did the right thing, keeping the sides separated, across the streets, with barricades. That's what police in other cities are supposed to do, but frequently do not, yet they retain their jobs for reasons that were unclear at press time.

Although claims of tossed empty water bottles were received during the 108-degree day, police action was unquestionably violent, and demonstrators and participants from many sides had no choice but to disburse. Anti-Trump protesters did create a ruckus at one point. These people and the belligerent crowd associated with them were deemed "peace activists" by Reuters, who withdrew the false characterization after a withering storm of rebuke. According to leading experts, such misleading references are institutional.

A picture speaks 1,000 words. Although MSNBC at one point referred in passing to "tens of thousands" of demonstrators, there were hundreds, which grew eventually to perhaps just more than that. This was the thickest crowd shot I could capture:
The full-size image allows head counts, pretty close. It's in the hundreds. This

image from TV during daylight, mid event. Night crowds were hard to gauge.
This was the main gathering spot, near the entrance, people flowed to here.

||||

Full color and free.

All our books, DVDs and other goods are listed here by category and alphabetically
http://www.gunlaws.com/books.htm
:::-—-:::
Every country has gun rights, ranges and rules --
some far better than others... where do you hail from?


THE WORLDWIDE GUN OWNER'S GUIDE
It's never been done before -- a 64-nation guide to the world's gun laws! We can learn a lot from other gun cultures. See their laws, local prices, who can bear arms, what you can possess (military ordnance in some places!), clubs and contacts -- America is not alone in the struggle to protect and enjoy the right to arms! Complete chart of gun freedom for every nation. Read more
Illustrated, with national rankings

:::-—-:::


TACTICAL BIBLE STORIES

by Rob Robideau. Only $12.95 +S&H

The author has taken familiar, famous battles and confrontations in the Bible
and distilled the self-defense and personal-safety lessons you can learn from Scripture.
The Bible is packed with tales that demonstrate techniques for

winning or losing armed confrontations. The author writes through that lens.

One more way to think about and explore an essential good book.
Tactical Bible Stories.

Beautifully illustrated with pen-and-ink drawings of Biblical times.

:::-—-:::
||||||||||||||

EXTRA SPECIAL
"DEATH BY GUN CONTROL"

We've stumbled upon a cache of this
formerly unavailable book
--
originally $12.95 if you could get one:
ONLY $7.00 -- only while they last!
Carefully researched, totally riveting, the true details of how
"reasonable gun control" was used to enable genocide in one
country after another -- how it works, why people buy into the promise,
how tyrants use it to gain power and murder people by the millions.
The Genocide Formula, national case histories, the U.N., even
the psychology of true believers.
Death by Gun Control
(Limited supply, like new, covers lightly scuffed)
by Aaron Zelman and Richard Stevens, Only $7.00!
(The late Aaron Zelman was the founder of
JPFO
)
:::-—-:::
_______________________________
COMMENTS HELP KEEP ME GOING

Another outta the park hit, Alan.
Especially the GOPers' perennial institutional inability to connect the dots. The obamacare flail of course has the potential to drive McRINO's despised Tea Party to vote 3rd party next time, or simply stay home. Sooo... Forcing a national CCW vote at least has the potential to ameliorate some of the bile building in the Republican G-I system... But McConnell and his brain-dead acolytes don't seem to have two gray cells to rub together. Yours, Barrett
--
Another outstanding issue Alan! Thank you. I look forward to every issue and always devour each one from end to end. Your acerbic wit is always refreshing. Plus, I've purchased a number of your books in the past. I've enjoyed and learned from each and every one, and I'm sure I'll be purchasing many more in the future. I know a lot of people who carry concealed, myself included, and I've loaned my now well-worn copy of After You Shoot to almost every single one of them. IMHO, that book should be mandatory reading for anyone who carries concealed, or any gun owner who imagines that they might ever shoot someone in self-defense, no matter how remote the possibility. - Don B. [You know I'm against mandatory. But I agree with the sentiment, everyone should. Alan.]
--

Order Instructions:
I bought the Traveler's Guide several months ago before our vacation. Kept it in my vehicle. Recently was at local gun range (Marksman Pistol Institute on Swan Rd.) & heard a woman asking staff for advice on transporting a handgun in her vehicle while she was moving to somewhere on the east coast. Their (crappy) advice was, "Oh, don't worry. Just keep it in the back seat area and it will be OK." I was horrified! I ran out to my vehicle, gave her my copy of the Traveler's Guide, and showed her how to check for each state she'd be traveling through. You might want to contact Marksman Pistol Institute and advise them to carry your books. Beckie G. [They do, but don't count on countermen. And too many people go to public school. How'd a guy like that get a job there? Alan.]


--
Hi Alan: thanks for "re-responding" to my e-mail. Reading the previous reply and one from a friend of yours I get the impression that you think I am concerned with required gun safety. I'm not, although gun safety is always good. What I am worried about is legal safety. Too many people do not understand (even after 2 hours of reviewing the Attorney General's booklet on this subject when they can shoot and when they must not.
However, then I re-read my own e-mail below and realized that I was advocating for still having government control over a Constitutional right. I read all your writings and agree 100% and yet here I'm disagreeing??? I think I worry too much about other people. How about if the (dreaded) government just produces a booklet describing in detail the laws regarding shoot / no shoot (by gosh they do) and just let people seek them out if they want to?
Dumb-ass people will not. Smart people will. The dumb-asses may suffer. The smart people will not. You win, Alan, and I'm glad you did. Thank you. Bob M. [The "required" book you describe are the statutes they enact, that I can live with -- don't pass laws without informing us precisely what they are. As to the "booklet" you describe, something easy everyone ought to have, that's a private sector job. It's what I do. Go back and look at our ads. Get some. Alan.]
WHY EVERYONE MUST LEARN TO SHOOT!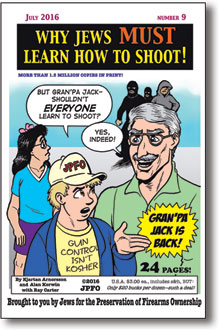 The Newest Gran'pa Jack ILLUSTRATED BOOKLET
Co-Written by ALAN KORWIN !


Why Jews Must Learn To Shoot! Gran'pa Jack #9
Kjartan Arnorsson and Alan Korwin, with the late Ray Carter
24 pgs., only $3, or 2 for $5, we pay the postage!
So politically incorrect it could catch fire, the reasons everyone should learn how to shoot, with all the villains who want to kill you and destroy America named. We wake up anyone who doesn't realize the schools are keeping our kids ignorant, religious leaders are practically worse, and politicians who should help get you trained instead are seeking to disarm us. Blacks, Arabs, drug lords, The U.N., muslims, muggers, thieves, bad cops, we spare no one in a quest to motivate the naive to action. A thrilling teaching tool, get a few, enjoy it, and pass them around. You owe it to your family and friends to spread the word -- encourage learn to shoot!


One copy, $3, free shipping

Two copies, $5, still free shipping
Get a dozen for $20 bucks and really do some good with them.
(S&H at cost)
Read More: The ORLANDO JIHADI ASSAULT!
Alan Korwin
Bloomfield Press
"We publish the gun laws."

4848 E. Cactus, #505-440
Scottsdale, AZ 85254
602-996-4020 Phone
602-494-0679 Fax
1-800-707-4020 Orders
http://www.gunlaws.com
alan@gunlaws.com
Call, write, fax or click for our f r e e full-color catalog
Guns Save Lives
Guns Stop Crime
Guns Are Why America Is Still F r e e

My how you've grown!
Add yourself to this free list:
(Alan's private email list -- used infrequently for Page Nine
and gun-law updates; you can unsubscribe at any time)